Marking / livery for 1/24 scale models: Porsche Kremer 935 K3 Team Bob Akin Motor Racing sponsored by Coca Cola - 1981 (ref. DCL-DEC037)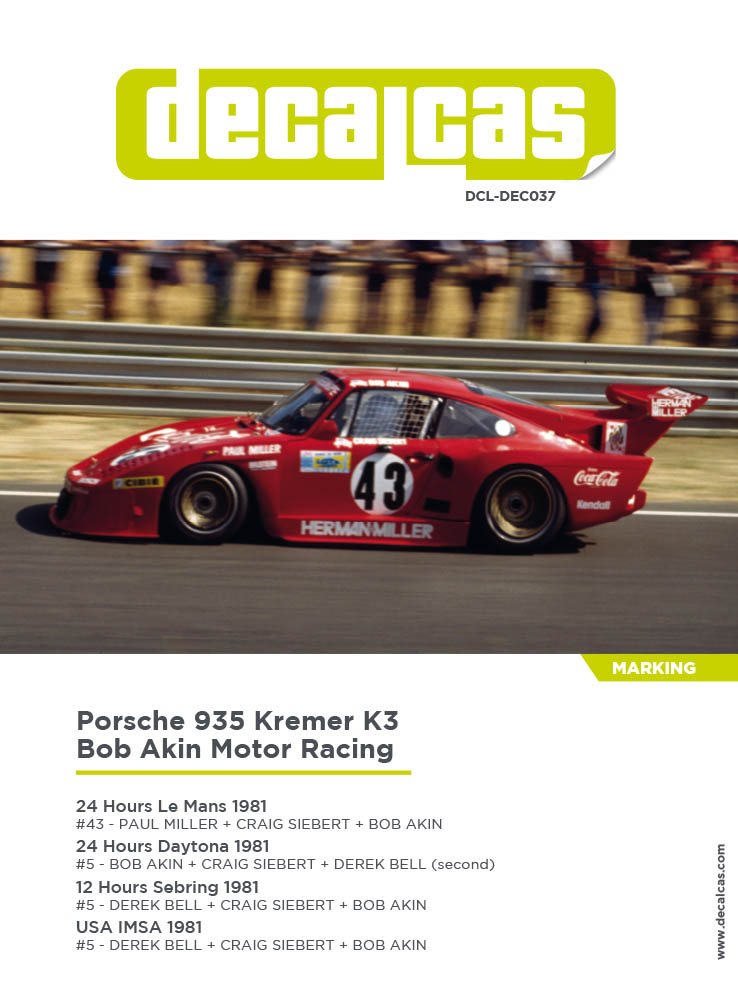 Porsche Kremer 935 K3 sponsored by Coca Cola, METCAR and HUDSON WIRE, including variations for the main competitions it took part at Europe and North America in 1981. The set includes a paint mask for recreating the Coca Cola strip on the front hood.
Status: Available
Family: Marking / livery

Scale: 1/24

Reference: DCL-DEC037

Item: Porsche Kremer 935 K3

Team: Bob Akin Motor Racing

Sponsor: Coca Cola

Number: 43

Drivers: Paul Miller + Craig Siebert + Bob Akin

Race: 12 Hours Sebring, 24 Hours of Daytona, 24 Hours Le Mans, IMSA 1981

Includes: paint masks, water slide decals manufactured with digital technology, assembly instructions and painting instructions

To be used with: Nunu references PN24006 and PN24029

Download DCL-DEC037 reference instructions in PDF format
.
MSRP: 20.00€